President's Cup Award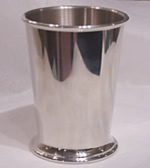 The President's Cup Award is for those who have put championship level American Kennel Club (AKC) titles on their Brittanys during the qualifying year from November 1 through the subsequent October 31. The award is an engraved, pewter Virginia Cup.
Qualifying Titles
Multi-event: Triple CH (TC), Dual Champion (DC), Versatile Companion CH (VCCH)
Field: Field Champion (FC), Grand Field Champion (GFC), National Field Champion (NFC), Gun Dog Stake CH (GDSC), National Gun Dog CH (NGDC), National Open Gun Dog CH (NOGDC), Amateur Field Champion (AFC), Grand Amateur Field Champion (GAFC), National Amateur Gun Dog CH (NAGDC)
Show: Champion (CH), Grand Champion (GCH), Grand Champion Bronze (GCHB), Grand Champion Silver (GCHS), Grand Champion Gold (GCHG), Grand Champion Platinum (GCHP)
Obedience: Obedience Trial Champion (OTCH), National Obedience CH (NOC), Preferred Obedience CH (POC), Rally: Rally CH (RACH)
Agility: Master Agility Champion (MACH), Preferred Agility CH (PACH), National Agility CG (NAC), Preferred National Agility CG (PNAC)
Tracking: Champion Tracker (CT
Hunt: Master Hunter (MH), Master Hunter Advanced (MHA)
Procedures
To receive a President's Cup, members must submit a copy of the title certificate to the designated coordinator by a certain date. The date is typically set in early November. Cups are presented at the holiday party or annual meeting or shipped directly to the member. Members who do not submit documentation by the deadline, will not receive cups.
Additional Championship Titles
NVBC will also engrave additional championship titles on existing President's Cups. Members whose dogs have previously received a President's Cup must mail the cup and a copy of the additional title certificate(s) to the coordinator by the deadline to have the new title(s) engraved.
Member Qualifications
The President's Cup Award is available only to current members who contribute time and effort to the club. Contributions may include, but are not limited to, chairing or working an event, serving on a committee or the board of directors, hosting a meeting or party, and sponsoring or contributing to a trophy. Cup Specifications

The cup we use for the award is a 12 oz., shiny pewter, Virginia Cup, engraved with Double Line Block font as follows:


On one side: Northern Virginia Brittany Club President's Cup
On other side: Dog's Name - Owner's Name - Title Abbreviation (XX, etc.) - Date Earned (00-00-00)
Recently, cups have been purchased from Camelot Pewter, Richmond VA., www.camelotpewter.com.