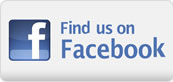 Stay up-to-date with NVBC happenings by following your club on Facebook. We are thankful for Laurie O'Donnell's efforts in producting the NVBC Newsletter for members as well as being the administrator of our club's Facebook page. Click on the link above, "Like" the page and post away!
____________________________________________
NVBC News Flashes

June 7, 2016 - The AKC just launched the brand new "I Am a Breeder" video series. The series visits four breeders at home and shows a side to breeders that the public generally does not get to see. The videos give people a behind the scenes look at the love and dedication breeders have for their dogs, and the dogs that become family pets to loving owners.
View the TRAILER of this series "I Am a Breeder" videos HERE.
I am a Breeder - Theresa Viesto - Labrador Retrievers VIDEO
I am a Breeder - Pat Flanagan - Mastiffs VIDEO
I am a Breeder - Peter Festa - English Bull Dogs VIDEO
I am a Breeder - Betsy Richards - Berger Picards VIDEO
DOGS 101 BRITTANY bonus video

June 7, 2016 - More ways to have fun with your dog! AKC introduces two new entry level agility classes, ACT 1 and ACT 2 (Agility Course Test). The classes provide shorter courses with basic obstacles that are appropriate for dogs beginning in the sport. Clubs/trainers may start holding ACT classes immediately. More information

February 22, 2016 - NVBC Events Calander Updated for 2016

January 12, 2016 - NVBC DOY winners and New Titles earned in 2015 listed here.

January 2, 1016 - Aidan Is th Rally High Combined winner at the 2015 ABC Nationals.
GCH MACH Brookewood's Just Too Hot UD RE MXG MJG MXF T2B, call name: Aidan; Owner/Handler: Sue Drazek / Co-owner: Cindy Miller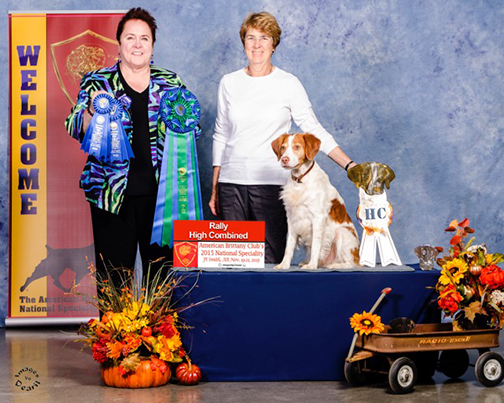 December 20, 2015 - NVBC President's Cup and Angel Award announced for 2015. 2015. NVBC Awards and New Titles in 2015

Nov.12, 2015 - Unfortunaetly the NVBC Fall Hunt Test is cancelled due to lack of entries. NVBC, HOWEVER,is hosting a a Training Day for all Pointing Breeds on Nov. 21, on the grounds of the Slate River Farm, Dillwyn, VA. Training Day flyer (Word) and .pdf format.

Nov. 6, 2015 - FIDOTV channel has launched! The AKC/Eukanuba National Championship will air live on the channel. Fido TV is currently available on DISH Network Channel 245. More info at FIDOTV




Oct. 29, 2015 - DOG OF THE YEAR AWARDS and PRESIDENT CUPS - The deadline is quickly approaching for submitting your information to the club – November 7th.

July 21, 2015 - Premium for
NVBC AKC All Breed Scantioned Agility Match to be held Thursday, September 3, 2015.

February 19, 2015 - Results
for NVBC Spring Field Trial events held Feb. 13 -15, 2015.
 February 18, 2014 - Watch the Brittanys (HD video 38:55) being judged Tuesday, February 17th at the139th Annual Westminster Kennel Club Dog Show.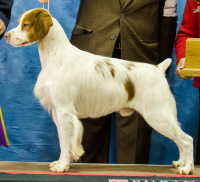 Congratulations GCH Rainbow Splash's Ruggedly Handsome "Beckett" , owned by Jerry and Kathy Hogan, Skyline Brittany Club.
 January 25, 2015 - NVBC lost a club founder, friend, leader and advocate for Brittanys and their owners: Peter "Pete" Hilgartner Col. USMC (Ret.) October 16, 1927 – January 8, 2015. Pete's history of NVBC.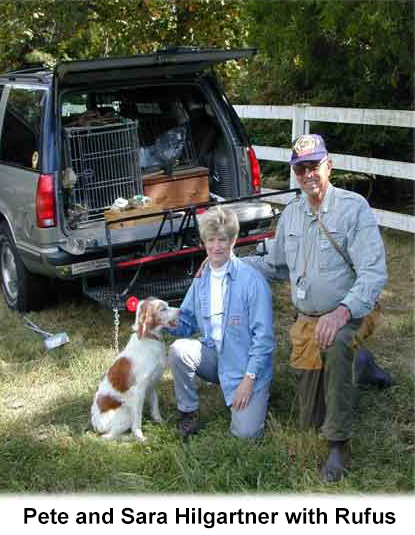 August 12, 2014 - JOEY IS FAMOUS! Barbara Bice and her Brittany, Brookewood's Joseph Brant (Joey), are featured in the Baltimore Sun's coverage of the new Worthington Dog Park in Columbia, MD. This dog park plays an important part in Barbara and Joey's life. Many Brittanys and their owners enjoy socializing at community dog parks across the nation.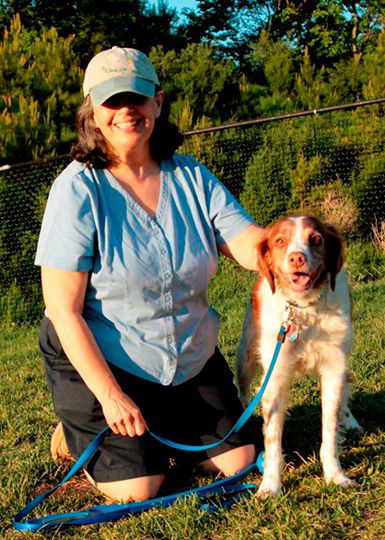 Barbara Bice and Joey
 June 3, 2014 - Tribute to Nick
May 26, 2014 - NVBC proudly announces our 2013 Dog of the Year Awardees


December 16, 2013 - GCH CH Brookewood's Just Too Hot CDX MX MXB MXJ MJB XF, 'Aidan' wins Best of Breed making the cut in the Sporting Group at the Eukanuba National Championship in Orlando, FL. Mega kudos to Aidan and Sue Drazek! (HD video - Brittany breed judging.)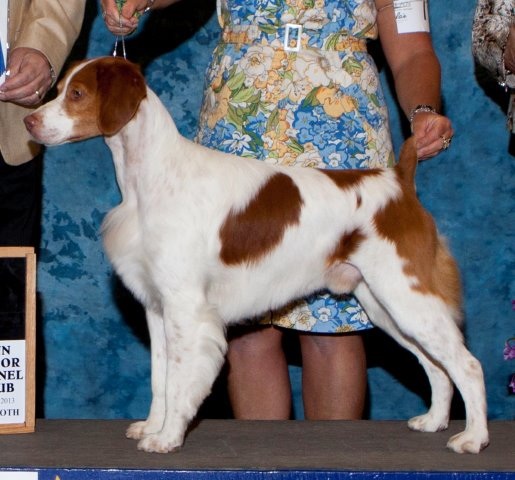 Aidan

 November 9, 2013 - Tribute to Zac